Step 3: Invest clients in the model
---
Once you have created the model portfolio you can invest your client accounts in it.
From the Portfolio Page in Classic TWS, access the Display Selector menu and ensure that the display is set to 'All' with 'My Positions by Model'.
NOTE: If you find yourself still in Model Setup, simply click 'Exit Model Setup' to return to the portfolio page.
From the Display Selector choose the client account to invest in the model. If the new Model isn't displaying, simply click the green [+] sign next to where it says 'Models' to view all available models.
Use the right-click menu from the model in which you want to invest, and select 'Invest in [model name]'.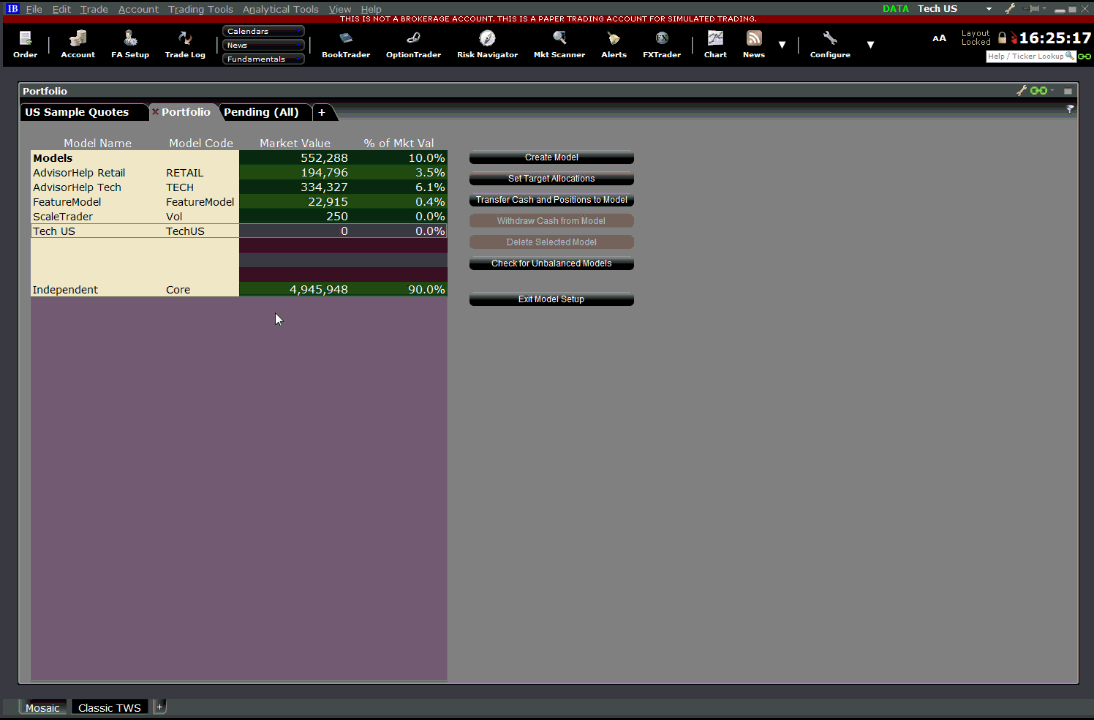 Enter the investment dollar amount and press Enter.
Below the buttons on the right, there are two options with checkboxes.
Check 'Use non-base balances when available' to use the cash balance of a non-base currency in the Independent side of the client account when an investment requires that a non-base currency be purchased to acquire an asset for the model. For example, if a client has a GBP balance in their account and the model includes an asset that would be purchased using GBP, the client's existing GBP balance will be used to purchase the asset.
Check 'Transfer positions from Independent when available' to use any existing positions in the Independent side of a client account in the model where applicable. For example, if a client already holds Microsoft stock, and the model is slated to have a position in Microsoft, the client's existing position will transfer to the model to avoid creating unnecessary transactions and their associated fees, or inadvertently overweighting the client account.
When done, click 'Create investment orders.' At this point, the Model is funded with cash, and the account's cash balance has been reduced by the amount of the investment.
Because you have already defined your target percentage allocations, the investment amount is automatically allocated across the products you configured, and investment orders are created in the lower panel using the appropriate allocations. If you enabled the 'Transfer positions from Independent …' checkbox described above, any positions transferred in from the Independent portion of your portfolio display 'TRANSFER' in the Action column. Orders with a BUY or SELL action may require a limit price.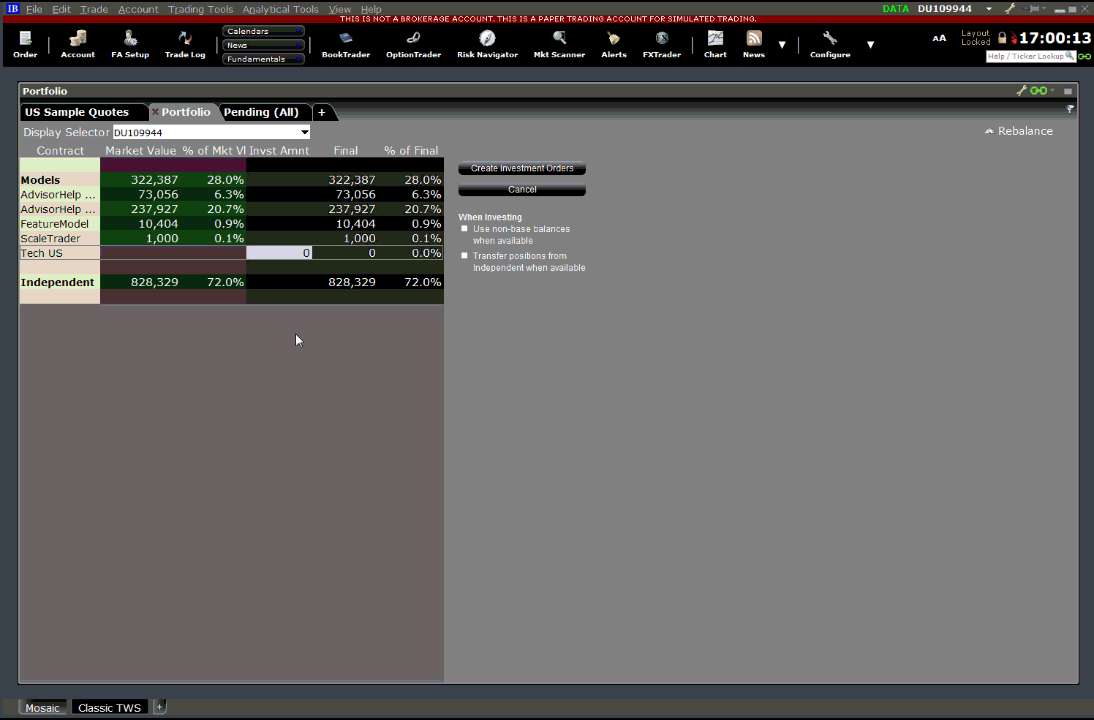 Click 'Transmit All' or adjust orders and then transmit. Alternatively, you can click the Save button. Selecting Save will execute any transfers that may exist from the Independent to the model, while new orders remain in the queue in case you would like to adjust the order and transmit at a later time.
View completed trades from the Trade Log.
Continue to invest clients into the model following the steps above.